Is Motorsport Britain's Best Export?
It's widely acknowledged that Britain is renowned for its passion for Motorsport, whatever the form; Rally, Open-Wheel, Tin Top, GT. You name it. We love it. But, has anyone stopped to think, especially with current fears amidst Britain recently leaving the EU, how important Motorsport is to our economy?
Yes, we boast a very well developed education system which people come from around the globe to enrol. But, our forays into motorsport are just as far if not, further-reaching as the allure of our Universities.
Take the 2019 Total 24 Hours of Spa, for instance. The pinnacle of the Blancpain GT Series & GT competition as a whole. 66 cars, 226 drivers! The Germans have the manufacturer brands nailed down, and why wouldn't they? They boast the marques of; Audi, Mercedes, BMW & Porsche, all of which have had an astonishingly glittered history across a multitude of disciplines, and which all prominently featured in last year's race. No less than 33 cars hailed from Germany, that's 50% of the grid! Add that to the numerous Lamborghini's which are powered by Audi internals as well and it's a real statement of intent from the Germans.
But, when it comes to the drivers, and no doubt the team staff, it's the Brits that are in pole position;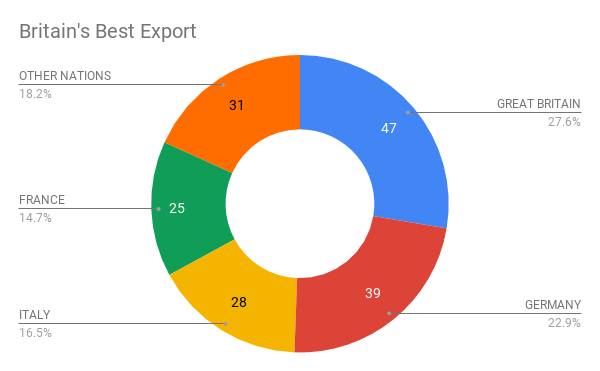 That's over a quarter of the entire entry list made up of British drivers!
Then, if you turn your head to F1, out of 35 nations who have been represented in the competition, Great Britain is the only nation to have contested every season since the inaugural one way back in 1951. That's a staggering 70 years in a row! Not to mention the very first race of that 1951 season was hosted by Britain, at the Silverstone GP Circuit. To put that into perspective, the next best is our neighbour, France, who has has been represented in 60 F1 seasons. 
To put further emphasis on this consistent domination, out of those 70 seasons, 19 titles have been won by 10 different British drivers, far more than Germany with 12.
Granted, a German holds the record of the most successful driver in the history of the sport, one Michael Schumacher, but second-most? Lewis Hamilton, and catching the vast number of records set by Schumacher, at a fair rate of knots, just 7 away from equalling the astonishing 91 race wins & 1 Driver's title away from equalling that (7) too. 
It doesn't just end with the drivers either. Although German by name, even the car that is responsible for propelling Lewis closer to those records, is developed in Brackley, UK. Much like the majority of teams currently competing in F1; 
Williams, who might I add, is one of the oldest competitors in the sport, based in Grove, Oxfordshire
Red Bull Racing, owned by an Austrian, yet is based in Milton Keynes
McLaren, founded by a New Zealander, based in Woking, Surrey currently but have routes dating back to 1963
Racing Point F1 Team (Formerly Force India), based in Silverstone, Northamptonshire
Renault, even the proud-to-be-French marque has remained in the UK, at Enstone, since it took over the Lotus brand since 2015
Over the 70 seasons that have been contested, a British based team have won a total of 517 wins, out of 1017 Grands Prix. That's more than every other nation combined! Those wins have also driven them to an astounding 15 Constructor's Titles. 
All of those teams require; pit crews, directors, designers (both livery & mechanical), team principals', the list goes on. Currently, F1 employs over 40,000 people in the UK. If you think of all the other disciplines and the staff they require to run, that number quickly starts to reach scary figures. Now think of all the teams that operate on an international stage. Yes, the money coming directly from the sport they are in might not necessarily count as income from exporting, but the fame and publicity the team generates will bring in money from; tourism, sponsorship, fan merchandise, etc.